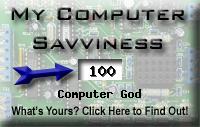 I took one of the silly "Internet" tests. Apparently I got the higest score to date. It's not hard, so I'm not surprised. Interestingly Unix users have a higher average than Linux users, who have a higher average than Mac users, with Windows users coming bottom...
A marginally funny process, but the questions are a bit predictable. Okay for a Sunday afternoon before dinner when you can't think of anything better to do.
Even though it's a frivolous waste of system resources I like to have a nice picture as my desktop wallpaper. At the moment I have a shot from the The Hubble Site on my work machine, and a friend's picture of Ullswater on my home machine. Today I decided to have another look round Yann Arthus Bertrand's site - www.yannarthusbertrand.com as there are some new pictures on their.
Though I don't have a fancy computer monitor - I can't afford a decent high resolution LCD display - it does limp along at 1280x1024 which is higher resolution that Yann Arthus Bertrand's images - which is a shame. Since I last looked there are quite a few new pictures to choose from, he's been to Corsica by the look of it...